Customer management and property development in one solution - the perfect pair for brokering and managing properties.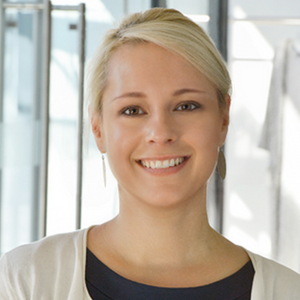 Head of Marketing & PR 
Mehr erfahren

Sandra Honner joined audius in 2016. She is responsible for all marketing and PR activities of the audius Group.
With audius:Finance, audius offers industry solutions for financial service providers based on Microsoft Dynamics 365 Sales. There is a separate, specific component for property management and development: audius:RealEstate. 
audius:RealEstate is the solution for the development, sale and management of real estate and is specifically geared to the needs of estate agents and property development. It deliberately builds on the strengths of CRM software and applies them to the real estate sector.
audius is constantly developing the software in line with current trends, requirements and regulations in the industry. It is clear that it is worthwhile for real estate agents and project developers to look beyond a spreadsheet and consider industry-specific CRM software. For two equally important strands of action: client management and property management.
Customer management aimed at concluding contracts
Interested parties, existing customers or business partnerships, as well as their potential, must be identified and approached in a targeted manner for purchase or rent. 
The conclusion of a contract goes hand in hand with the management and invoicing of the contracts. In addition to purchase prices and rents to be invoiced periodically on a monthly basis, this also includes settlements with suppliers and construction companies.
The cooperation and communication with architecture and craft companies is documented with audius:RealEstate and designed for long-term, good cooperation.  
Project development and its industry-specific features
The audius:RealEstate solution supports the conception of properties and land - including their characteristics such as trades, fittings, condition details - and enables valuation according to the discounted cash flow method (DCF) and the capitalised earnings value method. These are the basics for project development, sale or letting. The software supports project development with business processes for all phases in the life cycle of a property. 

Direct approach to existing and interested customers
Simple tools for direct marketing, segmentation and activity management enable targeted marketing communication. The data pool in audius:RealEstate is interesting for this in two respects: 
- For which clientele is which property of interest, which is promising for a positive contract conclusion? 
- Which properties are vacant or in the final project development phase and can be marketed?
Analysis and reporting
For many real estate agents and brokers, simply handling business processes digitally is not the path to success. Instead, the existing data must be used as the basis for sound, correct decisions and entrepreneurial action! With audius:RealEstate, business data is segmented, analysed and visualised in a targeted manner - in short: it is prepared in a way that is easy to read for decision-makers.  
Ultimately, it is still up to the real estate agent or project developer to use a spreadsheet. For data output and its visualisation, but not for business processes! 
Click here for the press release. 
If you would like to learn more about the state-of-the-art industry solution, you can find further information on the following product page.